Un plan hot maintenant sur :
CubaLiBre-24

28 jaar

Thomas

31 jaar

Yaniss

22 jaar

Baptiste

33 jaar

titof758

24 jaar

MaXense

34 jaar
De gegevens die worden verzameld bij de inschrijving zijn bestemd voor de onderneming Cyric, die verantwoordelijk is voor hun verwerking, en haar partners. Ze worden gebruikt om afspraakjes te maken met personen die bij u kunnen passen. U heeft het recht uw gegevens op te vragen, te verbeteren, aan te vullen, bij te werken, te vernietigen of te wissen, en u te verzetten tegen hun verwerking of gebruik voor commerciële doeleinden. U kunt uw recht uitoefenen door een brief te sturen naar het adres dat wordt vermeld in de Algemene gebruiksvoorwaarden.
Les derniers mecs inscrits chez nous
We hebben ruime ervaring in het regelen van gay afspraakjes.
De site is online sinds 2010.
Duizenden mannen maken dagelijks gebruik van onze diensten.
De gepubliceerde advertenties zijn echte advertenties. Ze worden allemaal gecontroleerd door ons team voor publicatie.
---
Je ontmoetingen krijgen een nieuwe dimensie!
Je favoriete site is nu ook beschikbaar op alle digitale dragers: Computer, tablet, mobiel...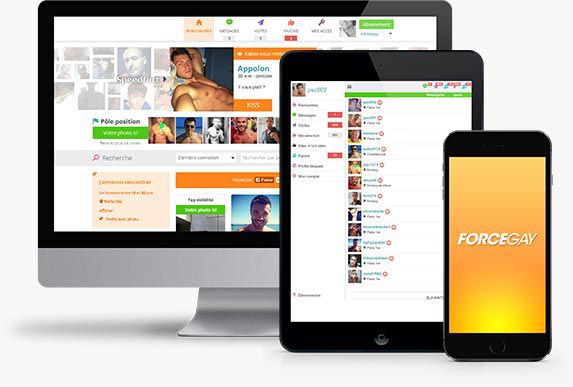 ---
Meer functies voor meer ontmoetingen!
Chat 100% Gay
Privé Mailbox
Live Webcam
Speedflirt®
---
De N°1 oplossing voor hete Dates
Découvrez un site vous offrant des fonctionnalités rapides qui vous permettront de faire des rencontres très vite et de trouver le bon partenaire. Tchat, webcam, contact emails, annonces avec photos, recherches géolocalisées, vous permettent de faire les rencontres dans votre région en quelques clics et de trouver le partenaire d'une relation intense et unique. Vous trouverez les personnes qui vous conviennent exactement grâce aux critères de sélection. Si un profil vous intéresse, envoyez lui un message ou discutez sur le Tchat pour voir tout de suite si le feeling est réciproque.